Christmas Jumper Day takes place on December 8th 2023. This annual occasion become a popular way for charities, schools and clubs to fundraise during the festive season, as everyone can get involved!
To make giving easier, iDonate have set up an open Christmas Jumper Day 2023 event page, where causes and fundraisers can set up a fundraising page for Christmas Jumper Day with just a few clicks!
There are two main options for causes:
1) Set up an individual fundraising page for your cause and ask supporters to wear a Christmas Jumper on December 8th and donate to your page
2) Share the link to the event page with your supporters and ask them to set up their own individual fundraising page for Christmas Jumper Day in aid of your cause (where family and friends can sponsor them for wearing their Christmas jumper). Fundraisers will be able to select your cause when setting up their personal page and all proceeds raised through their page will go directly to your cause.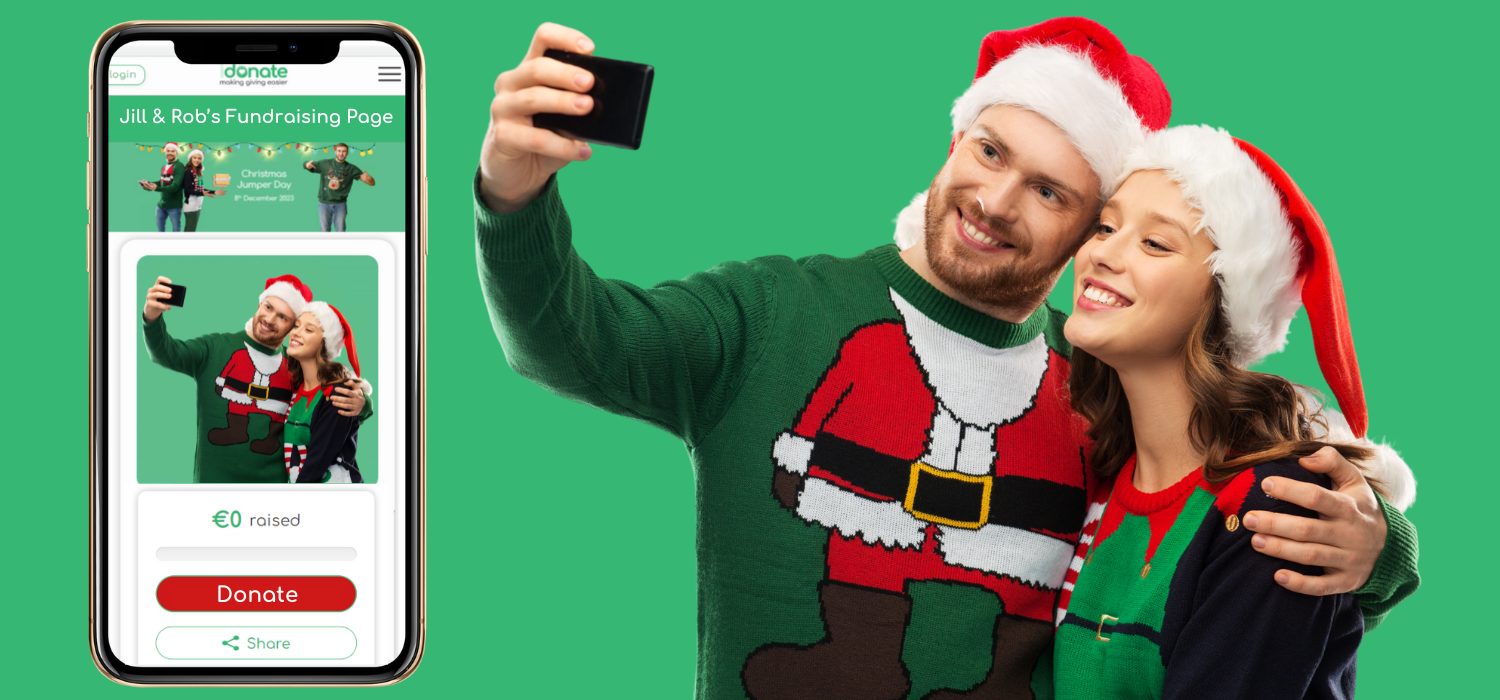 How Can Companies Get Involved?
Companies can get involved by setting up a group fundraising page via the Christmas Jumper Day Event Page, in aid of their chosen cause. All they need to do is click the 'Start Fundraising' button, choose the cause that their page is in aid of and activate their page.
They can then organise a 'Wear Your Wooley to Work Day' and ask employees/customers/supporters to make a donation to this page.
When the page is set up and activated, the link can be shared with employees via internal communications or companies can use the free QR code creator on their page, to create a QR code for the company noticeboard/reception area etc. (just click the share button!).
See more inspiration for Corporate Christmas Jumper Day fundraisers below!
How Can My Cause/Supporters Set Up a Christmas Jumper Day Fundraising page?

Setting up a fundraising page on the Christmas Jumper Day 2023 event is quick and easy. Just follow the 5 simple steps below:
1) Visit the main event page on iDonate here.
2) Click the 'Start Fundraising' button.
3) Type in the name of the cause that the fundraiser is in aid of
4) Fill in your details e.g. name/cause name/company name.
5) Click 'Create my page'
You will then receive an email asking you to activate your page.
Once activated the page can be shared via social media, WhatsApp and email by clicking the share button. The share button also enables users to download a QR code for the individual Christmas Jumper Day fundraising page which can be used on posters etc.
Some Ideas/Inspiration for Christmas Jumper Day….

Organise a Christmas Jumper Day for your workplace and ask colleagues to donate to the company fundraising page
Organise a Festive Jumper Friday for your school/club and set up an iDonate fundraising page for this event. Everyone donates €10 to wear their jumper!
Organise a 'DIY Christmas Jumper Day' and ask family and friends to sponsor you for your creative efforts
Host a Christmas Jumper Brunch/Dinner for friends and ask everyone to donate the cost of a coffee/drink to the fundraising page.
Ask colleagues/friends to don a Christmas jumper they already own on Christmas Jumper Day and to donate the cost of buying a new one to the group fundraising page – bonus points for sustainability!
Tap to Donate App - The Ideal Tool for Christmas Jumper Day!
iDonate are delighted to announce that our new Tap to Donate App is now available for all iDonate causes and fundraisers, offering even more exciting opportunities for festive fundraising!
Using our app on an android phone, fundraisers can accept quick tap donations to their fundraising page, safely and securely.
This exciting new technology makes it easier than ever for fundraisers to 'tap' their colleagues, friends and family for donations this Christmas Jumper Day – see more details on how to use the app at https://www.idonate.ie/tap/.