Well done on setting up your iDonate fundraising page! Now it's time to get it out there, to get the donations rolling in.
There are lots of ways that you can promote your fundraising page, from utilising social media and QR codes, to securing media coverage for your fundraiser. Below are some tips and suggestions on how to best utilise the mediums available to you, so that you can raise more for your chosen cause. Have a question on any of the below? Email our Support Team on helpdesk@idonate.
Promoting Your iDonate Page on Social Media
Social media is a great way to promote your fundraising page to others. It's a free, quick and easy tool and if used effectively, your fundraiser can reach a lot of people. From our experience, those who use social media to promote their iDonate fundraising pages raise more than those who don't. 
iDonate make it easy to share your fundraising page to most social media platforms, where possible. Just go to your fundraising page and hit the share button to share it via a range of social channels, including Facebook, WhatsApp, Twitter, Linkedin and email.
1) Click the share button on your personal fundraising page
2) Click on the channel that you would like to share your page through, for example a WhatsApp message.
Sharing Your iDonate Page - A Step-by-Step Guide
Click on a tab below to get a step-by-step guide to sharing your iDonate page via WhatsApp, Facebook, Twitter, LinkedIn or email.
WhatsApp
Facebook
Twitter
LinkedIn
Email
WhatsApp
Go to your fundraising page and click the 'Share' button.
Select the WhatsApp option. Click 'Continue to Chat' to open your chats.
Select the person or group that you want to send the fundraising page link to.
The link will now pop up in your chat. Press return to add some space after your link. Then type a message below, asking the recipient to support your page.
When you have finished writing your message, click the send button.
Your recipient(s) can click the link in your WhatsApp message to get to your fundraising page.
Facebook
Twitter
LinkedIn
Email

Sharing Your iDonate Page on Instagram and TikTok
Instagram
Sharing to Instagram from iDonate is not possible as Instagram does not offer this functionality. However, there other ways that you can share your iDonate fundraising page link on Instagram – see below:
Create a grid post on Instagram and share this to your story by clicking on the paper airplane symbol. Then add your fundraising page link to your story and add text asking people to donate to your page.
Add your fundraising page link to your Instagram page bio (links added to your bio are clickable). Then create an Instagram grid post about your fundraising page and direct followers to click the link in your bio to visit your fundraising page.
Create a short, custom version of your fundraising page link using a free link altering tool like Bit.ly. You can rename your link to something easy to remember like https://bit.ly/janespage and include this link in your Instagram grid posts. Direct followers to copy and paste this link into their internet browser to get to your page.
TikTok
10 Tips to Raise More From Social Media

Other Ways to Promote Your Fundraising Page

Media Promotion
Posters and Leaflets
Media Promotion
Local and national media presents a fantastic opportunity to get your fundraising page out to a wider pool of people, enabling you to raise more. By being proactive, you could be surprised at the coverage that you are able to secure! Below are our top tips for pitching your iDonate fundraiser to the media.
Ask local papers/radio to run a feature on your fundraiser and include a call to action for readers/listeners. Be sure to provide your fundraising page link and/or a QR code to your page. See below for details on how to create your page QR code.
Google newspaper articles related to charity and fundraising and check the articles for the reporters name. Find them on Twitter, Linkedin etc. and message them directly, with a request to cover your fundraiser. It's best to write a press release first and just present them with it, as they may just run with that if time is short and they have space to fill.
If you are offered an interview on radio, TV etc., be sure to shout out the link to your fundraising page so that people know where they can go to donate!
Posters and Leaflets
How to Create a QR Code for Your Fundraising Page
QR codes are particularly useful for printed materials like posters, that don't provide an option for a clickable link. By using their smartphone to scan your QR code, users will be taken straight to your fundraising page. You can also add QR codes to door letters, door signs/stickers or even paper coffee cups! Create a QR code for your fundraising page by following the steps below: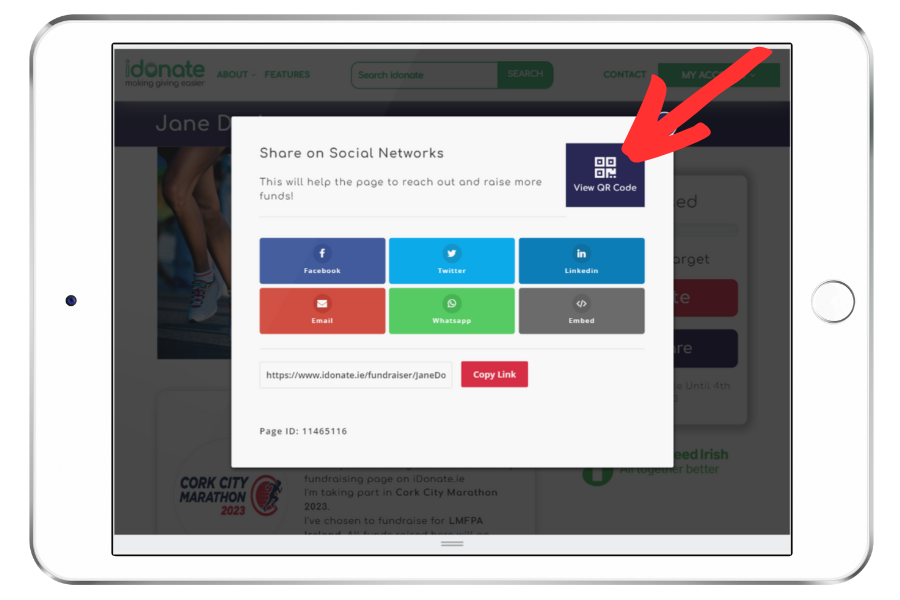 Click the share button on your fundraising page
Click the 'View QR Code' option
Click 'Download' This will download a PNG image of your QR code.
Add this PNG image to your poster etc.
Include a call to action e.g. 'Scan the QR code to donate to my page!'
We hope that you found these tips useful. If you require further support with your fundraising page please email [email protected]. 
Happy fundraising!