The first step for any successful fundraising campaign is to engage users. But this is easier said than done in a world where attention spans are getting shorter and new content is constantly fighting for our attention. Yet even in this new era of digital communications, it's one of the oldest forms of communication that can help causes to stand out – storytelling.
Storytelling has been used since the dawn of time to educate, entertain and influence. From cave art and biblical parables, to Hollywood and the rise of streaming platforms, storytelling has always been, and continues to be, an integral part of human life. It's clear that the human brain is naturally wired to engage with stories – something that the marketing and advertising industries have capitalised on for many years to sell products and services. But what role does storytelling play in fundraising?

If used correctly, stories can be a powerful tool for engaging supporters and motivating them to support your cause. They are the gateway to evoking empathy and an emotional reaction in people, which has an impact on their behaviour. But don't just take our word for it – here's the science…
What Happens in the Human Brain When We Engage With a Story?
Storytelling is an art form but its benefits are solidly backed by science. Studies show that storytelling triggers a cocktail of hormones in the brain, including cortisol (which focuses attention), endorphins (which make us feel good) and most importantly for fundraising, oxytocin – a hormone which enhances feelings of empathy, generosity and trust.
In one UK experiment, it was found that participants who were given synthetic oxytocin donated 56% more money to the charities than the participants who were given a placebo, proving that this hormone is a powerful motivator for altruistic action.
Another fascinating discovery about storytelling is that it causes a neural rection called transportation, which is when we emotionally resonate with a story's character so much that it's as though we are transported into their world. As inherently social creatures this neural process has developed in the human brain to help us form relationships. Transportation is the reason why our heart races when we watch a horror movie – we know logically that the scenario is not real but the evolutionary part of our brain stimulates the feelings that we think the character is feeling. It's this emotional connection that makes storytelling so powerful for fundraising – if we can get our audience to feel, then it is likely that they will take action as a result of this feeling.

Facts Vs Emotion – Which Have a Greater Influence on Donations?
When organising a charity campaign, it can be tempting to lead with data to highlight the impact that your charity is having. Numbers can't be denied right? But research proves that facts and figures are not the way to donor's hearts or pockets. A study conducted by Yale University found that providing data does not result in more donations. They found that the study participants were inclined to give more when they were presented with an emotional story with no data at all. This proves yet again that when it comes to charity, humans are inherently driven by an emotional response. And storytelling is the ultimate way to create an emotional response.
How Does This Relate to Online Fundraising?
Your fundraising page is often the first place that people land, so it's important to engage the visitor and motivate them to support your campaign. Unfortunately a generic page description, formal data focused text, or a just few short lines is unlikely to do this.
Just like the rest of your campaign, your fundraising page should tell a story that resonates with the user and keeps them reading. This takes more time and effort than writing a generic few lines, but it is much more likely to make your campaign stand out! Remember that the goal is to evoke an emotional response for page visitors, which compels them to support your campaign.
Adopting a storytelling approach means that your whole fundraising campaign is centred around a story so your fundraising page image and video should also reflect the story you are telling. Your story will be the backbone of your entire campaign and can be adapted for different platforms such as social media, mailouts, and radio appeals. It all starts with the story.

Some Successful Story Led iDonate Campaigns
As Ireland's leading fundraising platform, iDonate have supported some of the biggest national campaigns, from Climb With Charlie and Locks of Love for LauraLynn, to Rory Best's Miles2Mayo challenge. Working with thousands of causes across Ireland means that we have experience of supporting all different types of campaigns and this has given us a unique insight into the key elements that make a campaign successful. What we have witnessed time and time again that a compelling story plays a big part in a campaign's success.
Below are examples of two iDonate campaigns that were based a storytelling approach, which achieved a high level of engagement with supporters and raised a lot of money for the causes involved.
1. StepTember - DEBRA Ireland
In 2021, DEBRA Ireland approached iDonate with the idea for a new campaign called StepTember. The campaign would see DEBRA supporters signing up to walk 10,000 steps a day for the month of September to raise funds for DEBRA's services.
Supporting patients with EB and their families across Ireland is core to what DEBRA do, so they wanted their campaign to be reflective of this. It was decided that they would share stories from these families throughout the campaign, to help participants understand the impact that their funds would have. These stories were presented as videos which appeared on an interactive map on their fundraising page and were sent directly to fundraisers in a daily email throughout September.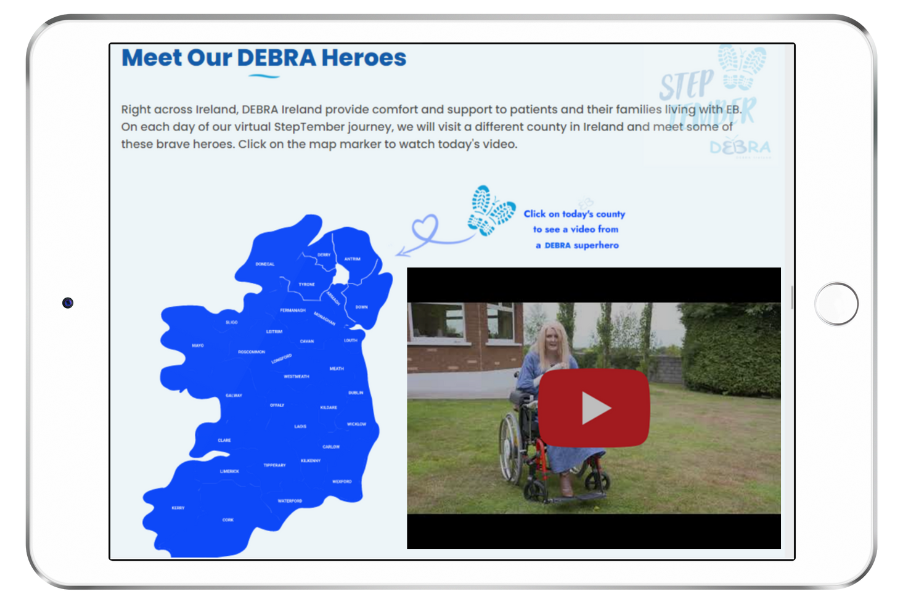 DEBRA campaign ambassador and service user Emma, also got involved in the challenge, with some videos focusing on her life and the challenges she faced when trying to complete her daily steps. Instagram influencer Trisha Lewis led the challenge on social media, joining Emma in her videos.
The result? After smashing their initial target of €30,000, DEBRA Ireland went on to raise an amazing €98,351 from their StepTember campaign – a huge achievement for their first year. This campaign is proof that using emotive storytelling can be a great way to engage supporters and highlight the impact of your cause's work, in an authentic, relatable and compelling way.
2. Dip in the Nip - In for a Penny
Dip in the Nip – in for a Penny was a campaign set up on iDonate on behalf of Aine Hickey – mum to Penny. As its clever name implies, the campaign was centred around six year old Penny's story of battling and beating osteosarcoma, a rare form of bone cancer. The campaign was set up to raise funds for Our Lady's Hospital Crumlin and to fund the building of Daisy Lodge Mayo – the first cancer support centre for children in the republic of Ireland.
The Dip in the Nip fundraising page featured a picture of Penny and the page description focused on telling her story, from diagnosis to the joyful moment when she rang the bell to mark the end of her treatment. The description ended with the impactful appeal below: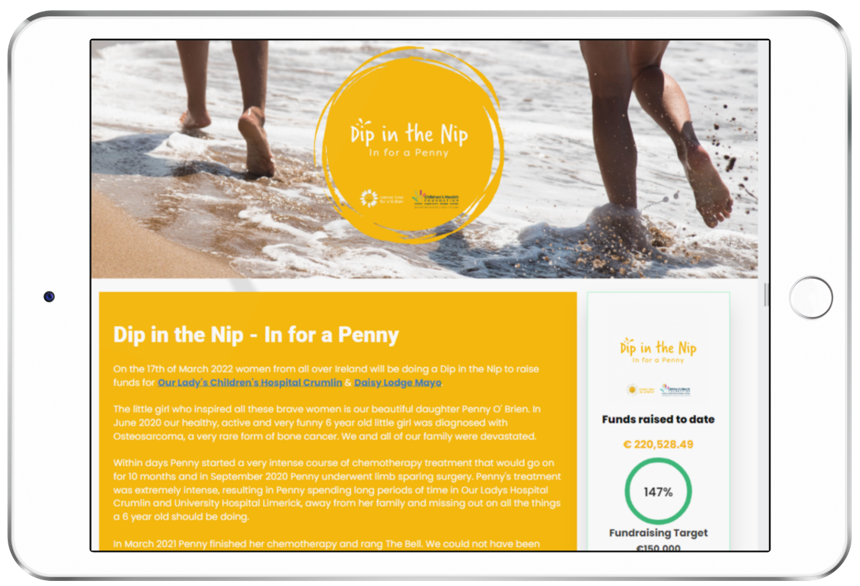 'Penny is not just our daughter. She is everyone's daughter, granddaughter, niece, cousin, friend. Please help us to reach our target and ensure that the love and support is there for any other family who have to go through this life changing experience'
In these few lines, the Hickey family helped to create a human, emotional connection with their fundraiser, by reminding us that any of us could be affected by this disease. It appears that a lot of people felt this connection as the fundraiser raised over €220,500 on iDonate – all through the power of storytelling.
We hope that we have inspired you to further explore storytelling as a way to enhance your fundraising efforts!
If you would be interested in learning more on this topic, please DM us on Instagram or Facebook, or email [email protected], and let us know how we can further support your fundraising storytelling.