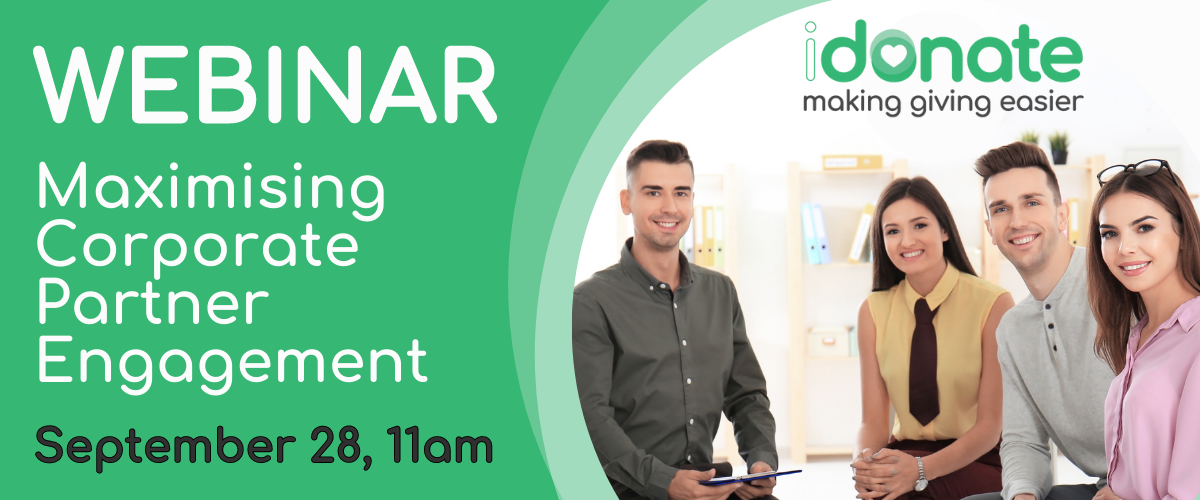 Register now for iDonate's Autumn webinar for causes on 'Maximising Corporate Partner Engagement', which takes place on Thursday September 28th at 11am.
This session will explore how charities can support their corporate partners to maintain engagement and momentum throughout the duration of the partnership, enabling them to raise more.
Joining Brian O'Neill on the panel will be Justin McDermott, Fundraising Manager at Jigsaw – The National Centre for Youth Mental Health and Adrienne Daly, Head of Social Impact at Deloitte Ireland, who will share their expert insight and advice in this area.
With over 21 years experience in fundraising, Justin brings to the panel his expertise in building successful partnerships with some of Ireland's best known companies including Lidl, Three, MSD and Starbucks. As Head of Social Impact for Deloitte, Adrienne will provide insight into the responsibilities and priorities of a CSR Manager, and provide an overview of Deloitte's extremely successful One Good Turn Campaign, which is currently running on iDonate for a third year.
Topics will include:
Common challenges to maintaining engagement throughout charity-corporate partnerships  – particularly longterm partnerships – and how to overcome these challenges on both sides
The value of developing a clear, long-term strategy for fundraising activity 
How to keep fundraising 'fresh' and the tools that can help companies to be creative
The importance of communication between both parties and the key areas for communication
Resources available to help companies to make the most of their charity partnerships.
See full details below including the link to register. Following registration you will receive an email with a link to access the webinar.
Webinar topic: Maximising Corporate Partner Engagement
Date: Thursday September 28th
Time: 11am
Location: Microsoft Teams
Link to register: https://cutt.ly/autumnwebinar