It's that time of year again…see below a range of festive fundraising tools from iDonate to help your cause raise more this Christmas!
From our open Christmas Jumper Day event and free Online Raffle Creator, to our Gifts of Impact Tool and Christmas Dedication Sites there are a range of options available to make Christmas giving easier!
Plus, with our new Tap to Donate App now available to all iDonate causes and fundraisers, it's easier than ever to collect donations from your 2023 festive fundraisers. Find out more below!
1. Open iDonate Event - Christmas Jumper Day 2023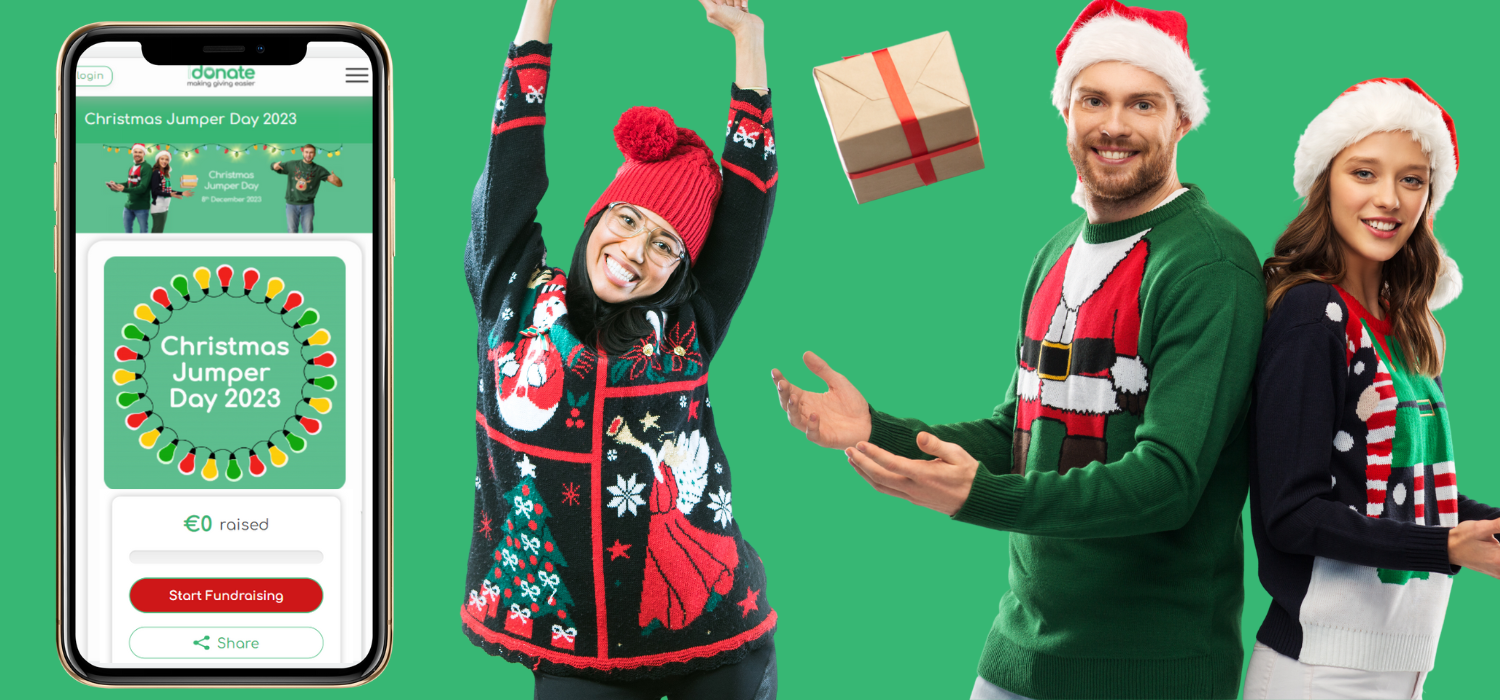 Christmas Jumper Day is a fun festive fundraiser, which is popular with workplaces, schools, clubs, families and other groups.
iDonate have set up an open event page for Christmas Jumper Day 2023 (taking place on Friday December 8th), which makes it easy for supporters to set up a Christmas Jumper Day fundraising page for their chosen cause. Causes can also set up a fundraising page on this event and ask supporters to donate to this page. Simply click the 'Start Fundraising' button and follow the steps to set up a page.
The ask is simple – wear your Christmas Jumper on December 8th and either fundraise on your own personal page or donate to the company/group/charity's fundraising page.
Be sure to bookmark the Christmas Jumper Day event page now and share it with supporters in the run up to the festive season!
2. Gifts of Impact Feed Creator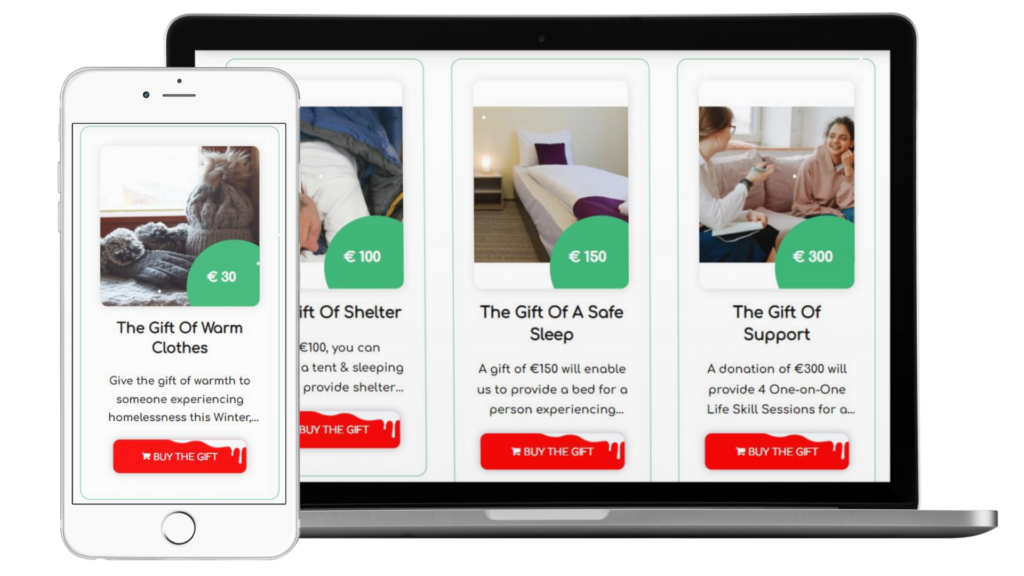 Gifts of Impact are tangible gifts that supporters can purchase in aid of someone in need – for example the Gift of a Hot Meal or the Gift of a Play Therapy Session. The cost of the gift is set by the charity and the donor makes a donation to this amount to purchase the gift. Purchasing a Gift of Impact creates a more meaningful experience for the donor, as they can understand the impact of their donation.
iDonate provide a free tool for causes, which enables you to set up Christmas a Gifts of Impact Feed on your iDonate Public Profile Page or your own website. Visit this sample Profile Page to see how this feed will look. Once your gifts are set up, you can direct supporters to your Public Profile Page or website, where they can purchase a gift.
The donor will also receive a digital certificate of donation, featuring the logo of the charity, which can be made out in their own name, or in the name of the person that they are purchasing the gift on behalf of. This is a nice way to acknowledge your supporter's generosity during the season of giving. Be sure to select the 'Christmas category' when setting up your gifts, so that the cert is Christmas themed!
For instructions on how to set up a Gifts of Impact feed click here. If you require further support contact [email protected].
3. Online Raffle Creator Tool
Since its launch in 2020, iDonate's free Online Raffle Creator has become a hugely popular fundraising tool for charities, clubs and schools – particularly during the festive season.
With this tool, your cause can set up an Online Raffle Page on iDonate like this one, where supporters can purchase digital tickets at the click of a button. This eliminates the hassle of cash handling and physical ticket distribution and makes it convenient for supporters to access raffle tickets. All you need to do is secure some nice prizes, set up your Raffle Page (adding graphics and prize descriptions) and then share the page link with your supporters. The Event Organiser can set the ticket prices and all proceeds go directly to your cause.
iDonate also provide a free 'Pick a Winner' tool in your Admin Panel, which will allow you to randomly select a winner from the list of ticket purchasers, making the process even easier!
See instructions for setting up your raffle page here. For further support contact [email protected].
4. Donation Dedication Sites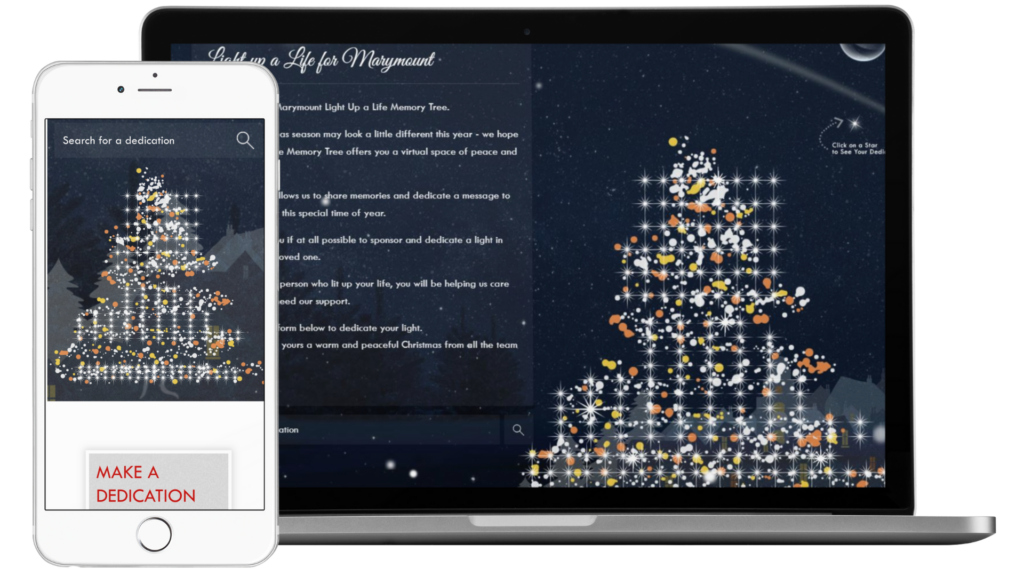 Our dedication microsites have been very popular in recent years as they provide an opportunity for supporters to donate on behalf of, or in memory of, someone special. The cost of a Christmas Dedication Site starts at €1200 and we provide 2 options for causes:
1. Light Up The Christmas Tree
Choose from three site templates to which we can add your logo and chosen text. Your supporters can light up the Christmas Tree by making a donation on behalf of someone special. When a user clicks on a Christmas tree light, the person's name will pop up, plus the message that was dedicated to them.
2. Dedicate a Star
This template will be personalised to your cause by adding your logo and chosen text. Supporters will be asked to dedicate a star to someone special by making a donation. All stars will appear against the backdrop of the Christmas night sky and when a star is hovered over, the person's name and the dedicated message will appear.
To make an enquiry about a Christmas Dedication Site, contact [email protected].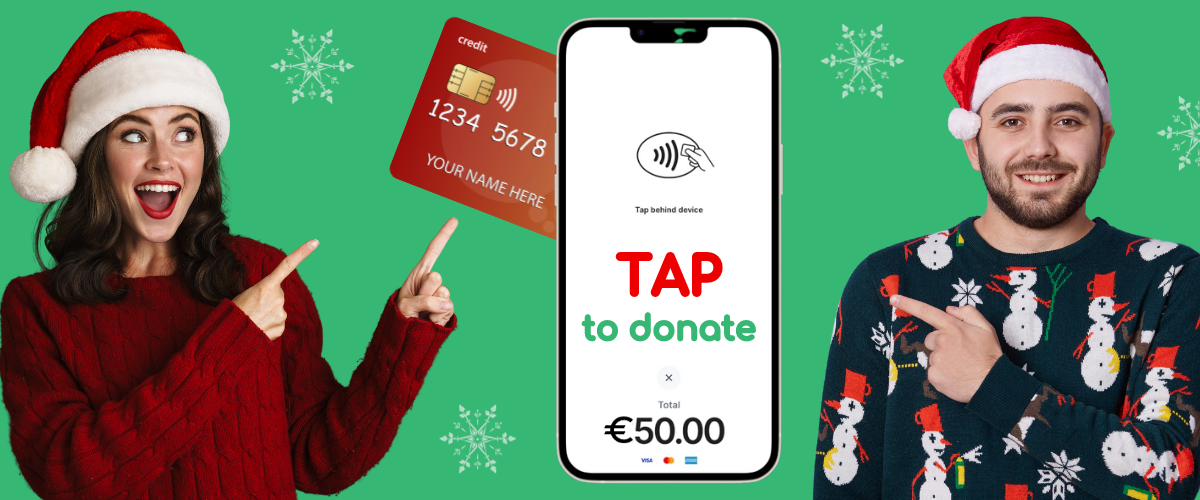 After a very successful beta launch, our new Tap to Donate App, is now an in demand tool for causes and fundraisers across Ireland.
Developed in partnership with Stripe, worldwide trusted payment provider, the app enables fundraisers to collect tap donations to their iDonate fundraising page, safely and securely.
This makes it the perfect tool to facilitate contactless donations at Flag Day Events, Charity Balls, and workplace fundraisers, as well as at Christmas fundraising events such as carol services or Christmas coffee mornings.
This exciting new technology will also make it easier for fundraisers to 'tap' family, friends and colleagues for donations this Christmas, whether it's at the office festive fundraiser, at the annual Christmas family get together, or even down the local.
To find out more visit www.idonate.ie/tap/. For further details contact [email protected].